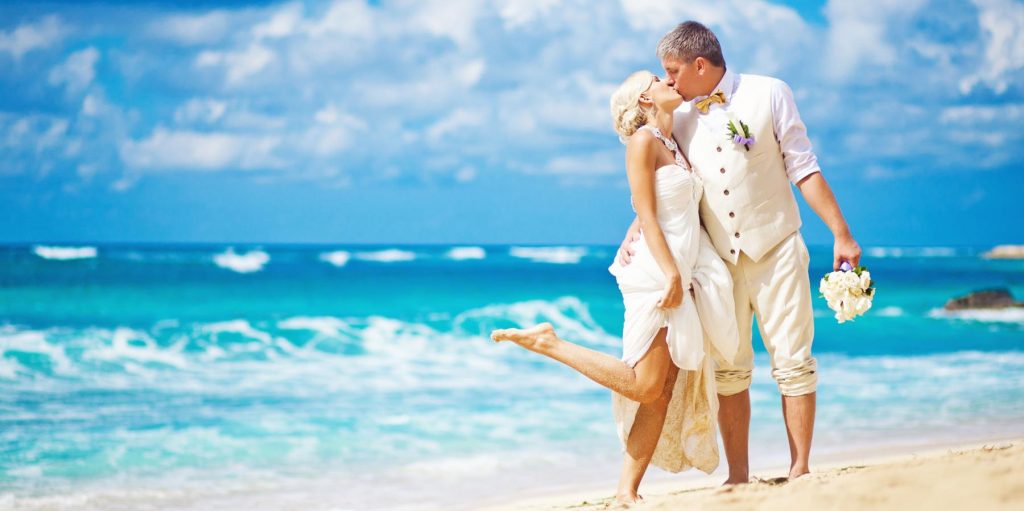 To Get Married In Florida
Only the couple can obtain their own Florida Marriage License in person before the wedding.  Your officiant cannot get this for you, it is a legal document.  Please allow enough travel time ( at least a few hours up to 1 full day before the wedding) to get your marriage license before the ceremony. Your wedding officiant will notarize and file it with the clerk of courts after the marriage to legalize your union.
Re-Scheduling
There is no fee for changing the date of your wedding AS LONG as it is within one year of the original booking, and the availability of your revised date has been confirmed by us, your 50% deposit has been paid, and your officiant and all other vendors that have been arranged for you are available on the new date.  There is also not a fee for changing your wedding location from Maine to Florida, or from Florida to Maine.
Cancellations
If you find that you must cancel your wedding date and a new date has not been determined within one year of the original booking, your payment will be forfeited.
Venue Fee
 All wedding venues such as a Hotel, Bed & Breakfast, Beach Resort, Church, Chapel or Botanical Gardens, etc. will require advance reservations and additional venue fees to reserve them for your wedding.  All In One Weddings can help you find the perfect location to suit your individual style, wedding theme, and overnight accommodation wishes.  Many of the beaches and parks will simply require a permit fee and parking fee.  Venue fees vary are NOT included in the prices listed on this website. Your venue fee will be paid directly to them.
Inclement Weather Policy For Outdoor Florida Weddings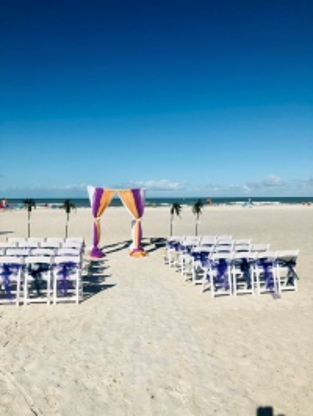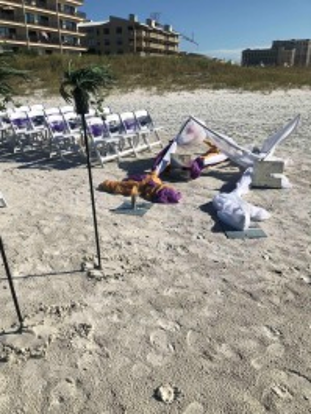 If your wedding will be affected by an imminent weather event, please note that the following policies will be implemented at once:
You will be offered the option to reschedule to a date and/or timeline when we can retain the full package options of your original contract.
This may mean simply moving the date and / or time ahead or behind the weather pattern by one or more days / or even by only a few hours.  Your wedding professional will make that determination for you based on the forecast and the schedule for the remainder of your stay.
Unfortunately, if you do not have the flexibility to extend your stay for rescheduling due to weather delays and there has not been an alternate indoor venue as a backup, your original contract date and time will be forfeited.
In the event that you DO prefer to move forward with the ceremony at the contracted date and time, and YOU have arranged through your hotel, guest house, rental house or reception site to allow an INDOOR wedding on the premises, we will accommodate that request. Please keep in mind there may be an additional travel fee charged, based on our additional mileage to the new, alternative indoor venue.
 Since the provisions of this policy are limited, please consider the following suggestions as a more proactive approach to making your wedding day less stressful:
 ***Do not book your wedding on a date immediately preceding your family and guests' departure date.
Booking your event at the beginning or in the middle of your stay provides more flexibility for everyone in case of inclement weather delays.
Check when booking your hotel, guesthouse, rental house, Airbnb or reception site to determine if they will allow an indoor inclement weather ceremony on the premises, just in case!  If not, with plenty of advance notice, we can help you find a local restaurant or event venue to reserve as a backup if they will not allow your ceremony to be held indoors at their location.
Be prepared to make an immediate decision regarding your choices on the morning of your wedding. Talk over the possibility of inclement weather before you arrive at your destination to eliminate unforeseen disappointments. Be ready to commit to your decision and let everyone in your wedding party know what your back up plan will be.
Thank you for your cooperation, patience and understanding with this necessary and important inclement weather policy.  The weather in Southern Florida, while normally warm sunny and beautiful, can also be fierce and unpredictable at a moment's notice.  We all want you to be safe so you can get to that honeymoon!
Payments


Payments and Deposits are accepted via Venmo, Zelle and PayPal.  
Ask for a Wedding Contract to Reserve Your Date Today!
A 50% deposit is required at the time of booking.
Remaining balance will be due 2 weeks before your wedding date.
Date is not reserved until your signed contract has been received.
Ask for a direct link to send a payment via Venmo, Zelle or PayPal.
Monthly payment options may be arranged for All Inclusive Packages.
There are No Refunds for canceled wedding dates.
There will be a Holiday Surcharge of $50 applied to wedding dates that fall on these Major U.S. Holidays: New Years Eve, New Years Day, Easter, Memorial Day, 4th of July, Labor Day, Thanksgiving, Christmas Eve, and Christmas Day.
There will be a 10% late fee assessed for all weddings that do not begin within 15 minutes of their contracted start time